ACME (American Custom Marine Electronics) serves all of South Florida but proudly has their headquarters in Northern Palm Beach County. When you are looking for Palm Beach Gardens Marine Electronics and Jupiter Marine Electronics in the notoriously experienced nautical area – call ACME | 561-517-1846. The owner of ACME fondly recalls moving to Jupiter in the early 80s from an even further south area (Miami). Growing up on the Loxahatchee River the owner of ACME learned alot about living the infamous style known as the Salt Life.
The guy writing this article lived on the Loxahatchee River too. A few rope swings away from Chads house is where I grew up at 19805 Loxahatchee River Road. Chad embodies everything nautical from climbing 50 foot trees and hanging rope swings from them to diving deep. We had quite a few nice rope swings* in Jupiter back in the day from Catos Bridge, Third Bridge and the two back by Chads house near the Island Way Bridge. Chad was marine savvy at an early age. He fixed my outboard engines many times. I had quite a few boats from Boston Whalers and McKee Crafts that Chad could fix the outboards on and make operational again. Bilge pumps not working and having boats sinking at the dock were not an issue with Chad around.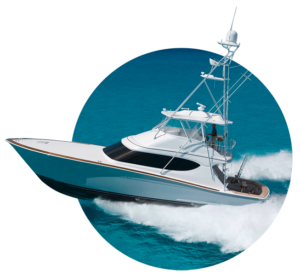 Pure Determination lead him to fix boats stuck at the dock as my parents got sick of paying for expensive outboard repairs. Anyone feel free to comment on this post. Remember the Moby Dick, a beautiful Hydrosteam mini speed boat that had an over sized Mercury. Thanks Chad for fixing the Moby Dick time and time again. Yes, everything we did as kids revolved around the Nautical environment including naming your boat after an 1851 Novel by Herman Melville. Seriously Led Zeppelin's song "Moby Dick" had absolutely nothing to do with this 🙂
There are some crucial benefits to any person looking to get Jupiter Marine Electronics service. First and foremost Chad knows the Jupiter area like the back of his hand but his years of experience can help you save lots of money. How? Just being able to step back and diagnose any Marine Electronics situation immediately keeps you from paying extra man hours trying to determine what the problem is. Troubleshooting is done with a bird's eye perspective. This 360 degree approach guarantees that ACME will be able to diagnose and repair any Marine Electronics issue you might have.
The next time you require Jupiter Marine Electronics call ACME and see what they can do for you. From any type of new marine electronics installation, marine electronics repair or marine electronics service. ACME employees are constantly undergoing the most extensive training from the leading manufacturers of Marine Electronics. They also hold the highest certification from NEMA (National Electrical Manufacturers Association) for Advanced MEI. When getting any Jupiter Marine Electronics service you should make sure that the Marine Electronics Installer has some type of NEMA certification.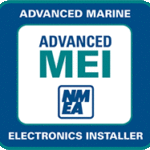 Having the Advanced Marine Electronics Installer badge is a notable achievement. This assures that your electronics will work properly no matter where your boat is floating. I myself watched another local Captain in Jupiter sink a 70 foot yacht at the Jupiter Inlet Colony Marina. As my family was snorkeling and  jumping off the Catos bridge in the late 90s I saw a close friend. Him and his father were working on this mega euro yacht doing Marine Electronics Installation. A few hours later I see that same boat sunk to the water line and burnt. As the Coast Guard, Jupiter Island Police and Marine Patrol are on the scene I ask the Captain? Did this have anything to do with your Marine Electronics Installation. I was shhhhhhhhh ' ed away and told to never mention again. Keep in mind that where you get your Marine Electronics Service, Marine Electronics Repair or Marine Electronics Installation from it should be from an experienced marine electronics installer. No matter what type of (MES) Marine Electronics Solution you require call the saltiest around. ACME (American Custom Marine Electronics).  
Marine Electronics Service

Marine Electronics Repair
Marine Electronics Installer
Jupiter Marine Electronics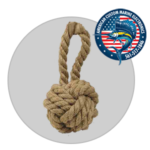 *Monkey's Fist or monkey paw is a much more comfortable knot to sit on for a rope swing and extremely difficult to tie. Not only can Chad do the most basic bowline knot from Jaws – ask him to show you the flying bowline knot.
Chad knows every nautical knot known to mankind.